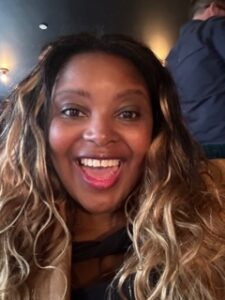 "Black people use AI in their everyday lives. However very few us know these systems can express anti-Black racism ... chile"
~ Mutale Nkonde
who is Mutale Nkonde?
Nkonde has over a decade experience as an AI Policy Advisor, she is the CEO and Founder of AI for the People and wants to make sure Black people do not become victims of algorithmic bias. She is also a much sought after media commentator and her work can be found in Slate, the Wall Street Journal and Harvard Business Review.
What is her impact thus far?
In 2019 AI for the People led the advocacy for the introduction of the Algorithmic Accountability Act to the US House of Representatives; its language around integrating impact assessments into the product design process has since been adopted into the American Data Privacy Act of 2022.
In 2020 AI for the people began expanding their work to UN systems through their membership of the UN Digital Impact Alliances' 3C UN Round table on AI. In that same year  Nkonde became a member of Tik Tok Content Moderation Advisory Council.
In 2022 Nkonde testified to the House Energy and Commerce Committee in support of the Algorithmic Accountability Act and the language around impact assessment was integrated into Section 207 c (i) of HR.8152, the American Data Privacy Act of 2022